But suppose you do have to work something out?
The diatomic molecules
Why is the formula for fluorine F2?
Let's start by sorting out the difference between the symbol for fluorine and the formula of fluorine.
The symbol for fluorine is what you find on the Periodic Table, F, and refers to a single atom of fluorine. The formula for fluorine refers to the way it is found under normal circumstances - that turns out to be F2.
If you work out the electronic structure of fluorine, you will find that it is 2,7. If you draw a dots-and-crosses picture of this, you will find that it has a single unpaired electron. If it could use that electron to form a covalent bond it would release energy and become energetically more stable.
So it shares an electron with another fluorine . . .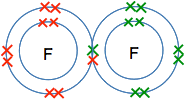 . . . and so forms a molecule, F2.
Why is the formula for oxygen O2?
If you go through this whole process again with oxygen, you will find that it has an electronic structure of 2,6 with two unpaired electrons. In this case, it can share each of these electrons with electrons from another oxygen atom to give a molecule O2.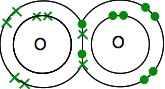 This is all a bit tedious, of course, if all you need to know is what formula to write down in a chemical equation.
Nobody in their right minds is ever going to do this in real life! Once you have written the formula for hydrogen, H2, or chlorine, Cl2, a few times you will just do it without thinking about it.
You might, though, be asked in an exam to explain why the formula for chlorine is Cl2, and so you need to be able to do it, even if you never actually do it in real life.
A couple of other molecules
Ammonia
You won't meet ammonia as often as things like hydrogen, oxygen and chlorine, and eventually you will probably just learn the formula. If you had to work it out, this is how it would go . . .
You would need to know that ammonia was a simple compound of nitrogen and hydrogen.
You would use the Periodic Table to work out that the electronic structure of nitrogen was 2,5. If you drew that in a dots-and-crosses diagram, you would have 3 single electrons and 1 pair in the outer level.
It would be most energetically stable if all of those single electrons were used to make covalent bonds.
If you do the same thing with hydrogen, you will find it has 1 electron in its only layer.
To satisfy both the nitrogen and the hydrogens you could make three covalent bonds: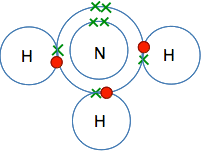 So the formula for ammonia is NH3.
The simplest compound of phosphorus and fluorine
This will never be a familiar compound to you - so you would have to work it out if you ever needed it.
If you worked out the electronic structure of both phosphorus and fluorine you would get: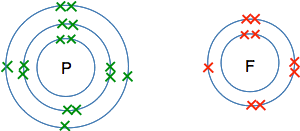 To get all the single electrons paired, you would need 3 fluorine atoms for each phosphorus atom. There is no need to draw the whole thing - just imagine it.
So the formula for the compound is PF3.
Where would you like to go now?
---
© Jim Clark 2019